In this digital age, being able to type faster than an average computer user is always a great skill to have. Whether you use it for copywriting, keeping up with in-game chat, or preparing a thesis or project document on a deadline, fast typing skills will always give you an edge. We have listed 5 websites which will help you to boost your typing skills.
1. Typing
Typing.com is a 100% free, online typing tutor for students of all ages. Includes teacher tools to manage classes, and grade and track student progress. Typing.com's proven curriculum takes students from beginner to advanced, focusing on technique, accuracy, and speed, preparing students for standardized testing, including Common Core.
The interface is easy to use, and with a range of lessons available for free you aren't set to lose anything by trying it out.
Visit : Typing
2. TypeRacer
If you want a typing test website where you can compete with friends or other users across the globe, you should check out TypeRacer. As the name suggests, the website is set in a race theme, and participants are represented as cars racing to the finish line. Besides the race format, you can also practice your typing skills by yourself.
To keep things interesting, TypeRacer offers different universes based on popular interests, including superhero movies, anime, pop music, comic books, and more. You can also create an account to save your scores.
Visit : TypeRacer
3. TypeRush
TypeRush is a game designed to test and improve a player's typing abilities. Players join an online multiplayer game where they would be racing with four other players. Each player is represented by a car and the speed of the car is dependent on how quickly and accurately the player types the text that is displayed on the screen. Players are allowed to choose between two modes — single row or double row of text. The speed, accuracy, and rank that a player earns in each race determine the virtual coins, XP and overall points that a player earns at the end of a race. The coins can be traded for better-looking cars, and the XP gives access to better cars.
The game is additionally divided into a country-wise league with a leaderboard where players are ranked based on Words per minute, XPs they have earned and overall points. There also exists an international leaderboard for the best players to look at where they stand compared to the other typist-racers in the world.
Visit : TypeRush
4. 10FastFingers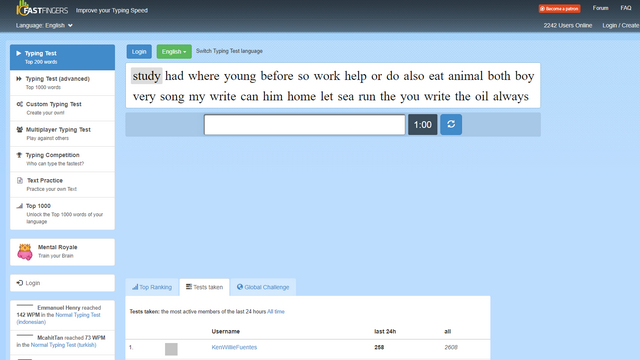 10fastfingers is probably the most popular typing test website out there. The website is user-friendly and doesn't feel overwhelming even to new users. During the typing test, you have to type random words for a minute. No, you cannot adjust the test duration but can choose to type in over 50 languages.
When the test ends, you will see the results with wpm, keystrokes, accuracy, and the number of correct and wrong words. You can also choose to share your result to Facebook from the website or challenge your friends through other social media platforms.
Visit : 10FastFingers
5. RataType
Ratatype is also a free online typing tutor that provides typing lessons and excercises. Each student can pass a typing speed test and get a free typing certificate . It has clean UI and does not contain any ads.
Ratatype's layout is clear and easily understandable. You will never get lost. There are fifteen lessons, and you can repeat any lesson as many times as you wish. The same is true for the exercises, and you can even take the same typing test several times to improve on your previous score.
Visit : RataType